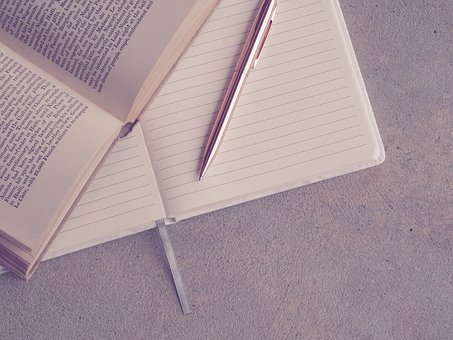 In November of 2009 I started a Reader's Journal. It was my mom's idea. I had sent her a beautiful spiral notebook, Pausing for Beauty: The Heron Dance Poetry Diary. It featured small watercolor pictures by Roderick Maciver, little quotes and poems by an assortment of people, undated monthly calendars, and pages that were lined on one side and blank on the other.
I'll use it for a Reading Journal," my mom said.
A marvelous idea, I thought. I'd often kept lists of what I read in the back of journals or binders, or mentioned books in the course of journaling, but I'd never considered keeping a journal just for books. I found a blank 6 x 9 spiral notebook and penned my first entry: Modern Library Writer's Workshop: a Guide to the Craft of Fiction by Stephan Koch. (Lib) The book is starred with a quote below it:
 "The cat sat on the mat" is not the beginning of a story, but "The cat sat on the dog's mat" is. — John Le Carre
I now have a decade of books logged. Yes, it's a bit spotty in places; sometimes coming across a pithy phrase would remind me of my Reading Journal. I'd write the title and author of the book, the quote, and then add any books I remembered reading since the last time I made an entry.
It's been interesting to review a decade of books read; to look back at quotes and titles and favorite authors. While I can see potential value in having a computerized list, there's something satisfying about grabbing the journal and pen, writing a cool quote and reading on with the notebook at the ready. There's also less chance of getting distracted then there would be of bringing out my iPad — and suddenly finding myself lost in social media or email.
The last entry in November 2019 is Art and Fear by David Bayles and Ted Orland. It's not starred, but I love the quote:
  "After all, someone has to do your work, and you're the closest person around."
I now have a brand new spiral notebook, a Reader's Journal for 2020, maybe for the next decade. Perhaps you'd like to have one, too.
Happy New Year!
Blessings,
Alliee +