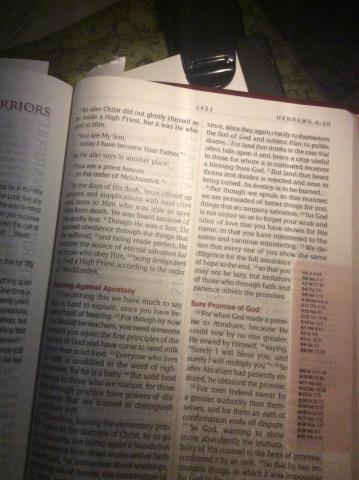 I often wake up earlier than my husband, which can be problematic in the long dark mornings of winter. For a while the novel attributes of my Bible on the iPad and computer bridged the gap between his retirement and my desire to visit with the  Psalms, stories, letters and parables first thing in the morning.
Eventually I wanted to write before the glow in the sky lit up the page. "Just turn on the light on your side of the bed," my husband said. But it seemed so rude.
Somehow I happened on the idea of a pen with a light in its tip. I spent a couple of hours on Amazon. researching pens with lights. I narrowed the field down to two options, all the while learning about professions where a light pen was a real bonus: nurses checking patients at night, waitresses in dimly lit bars, and yes, a lighted pen was great for signing the check or even reading the menu in romantic, candle lit restaurants. 
Before I clicked buy, I checked our local office supply stores. They didn't have any. However, walking around added more blood to my brain and I remembered that I am very picky about pens — the writing part of them. Since I particularly hate ballpoint pens, and these were all ballpoint, the chances that I would like writing with them, light or no light, were close to zero.
With the grace of a twirling ballerina, I shifted my research to book lights. I will spare you the hills and vales of this particular pursuit and jump to the joyful finis. I found a terrific light. Solid clip, warm glowing sunrise color, three levels of light, rechargeable, an easy way to check the battery, a lovely carrying case, superb and simple directions.
There is infinite pleasure in having something that is carefully thought out, well made, supremely designed. It is, you might say, only a book light. However, beyond the function of lighting up my page is the excellency of design which gives a pleasure all its own. It matters not that the item is only a book light. What matters is that the light plays its early morning part with grace, style and exquisite functionality. May I, somehow, manage to do the same.
                         (I bought this through Amazon; it was made by Ecologicmart.com)
Blessings,
Alliee +